The SPEC Difference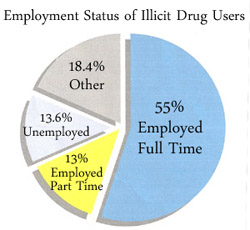 GOALS OF THE SPEC DRUG-FREE WORKPLACE PROGRAMS
Create a safer workplace environment
Reduce corporate liability
Provide identification of employee drug use
Improve the company's profitability
Provide the most legally sound program that complies with state and federal guidelines
KEYS TO THE SPEC PROGRAM
SPEC programs emphasize prevention, education, and treatment in the workplace. SPEC utilizes a hands-on approach to implement your policy and all elements of the program. Each program incorporates several key elements including: a written policy statement, substance abuse testing, assistance resources, employee education and supervisor training.
WRITTEN POLICY STATEMENT
SPEC drafts tailored policy statements that accurately reflect your business philosophy and needs while also complying with all state and federal regulations. SPEC has proven that having a written, clearly defined, and well-communicated substance abuse policy is critical to the success of a substance abuse program.
SUBSTANCE ABUSE TESTING
SPEC consults with businesses to ease the critical decision making process in drug testing. While it is a necessary part of abuse programs, it raises such issues as whom to test, and what to do if the test is positive. SPEC is experienced in all forms of testing and the legal implications of each. SPEC will assure that the proper testing is implemented for your business
EDUCATION AND TRAINING
SPEC provides training sessions for both employees and management. Proper education and training ensures that the workforce understands the detrimental effects of drugs and supports the program instead of resisting it. SPEC's experienced instructors understand how to address and respond to the sensitive issues facing your business.
CONSULTATION AND TECHNICAL SUPPORT
Upon implementation of your program, SPEC stays on-board, as a third-party administrator, to support management with technical questions that may arise; work through sensitive situations to ensure proper handling; etc. Companies have found that SPEC's continuous consultation service and support is that added value that they know that they can rely on.
---